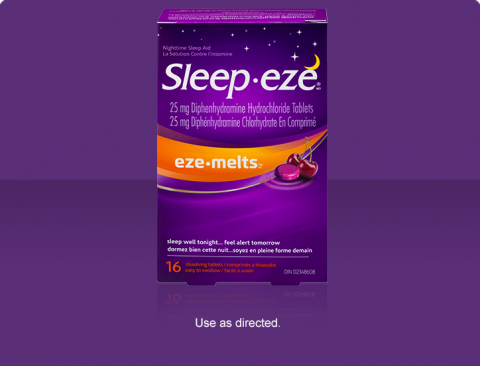 Sleep-eze® eze-melts®
Help relieve occasional nighttime sleeplessness and insomnia with Sleep-eze® eze-melts® that dissolve quickly without water.
Available size: 16 dissolving tablets
Please check package for most up-to-date product information.
Directions
Adults and children 12 years of age and older:
Take 1 or 2 tablets at bedtime if needed, or as directed by a physician.
In some persons, persisting drowsiness may be experienced with a 50mg dose (two tablets), in which case the medication should be subsequently reduced to 25mg (one tablet).
Ingredients
Active ingredient
| Ingredient (per tablet) | Purpose |
| --- | --- |
| Diphenhydramine Hydrochloride 25 mg | Nighttime sleep aid |
Inactive Ingredients
citric acid, D&C Red no. 7 calcium lake, Flavour, Mannitol, Microcrystalline cellulose, PVP, Sucralose.
Warnings
CAUTION:
For occasional use only.
Do not exceed (increase) recommended dose except on the advice of a physician. If sleeplessness persists continuously for more than 2 weeks, consult your physician.
Insomnia may be a symptom of serious underlying medical illness.
Do not take this product if you have glaucoma, chronic lung disease, difficulty in urination due to an enlargement of the prostate gland, or if you are pregnant or breastfeeding, unless directed by a physician.
Avoid alcoholic beverages while taking this product.
If you are presently taking a prescription drug or other medication, do not take this product without first consulting your physician or pharmacist.
Not to be used by elderly patients who experience confusion at nighttime. This product may produce excitation rather than sedation in the elderly. Therefore it should be avoided in this age group.
Keep out of reach of children.
Browse more Sleep-eze® products